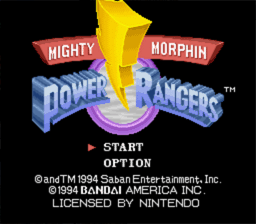 When people think about Power Rangers, they remember the awesome series they used to watch as kids.
But the franchise also reached the video game industry, and I always think about the awesome Mighty Morphin Power Rangers developed by Natsume for the SNES.
This is a very good beat'em up, much like Final Fight 3 or Ninjawarriors. Fast, colored and fun, this game gives players exactly what they want.
You can choose 1 from the 5 Power Rangers and engage in battle with Rita, your archenemy. Travelling from various levels and fighting many bosses, I guarantee this game is full of fun, even if you aren't a fan of the series.
Another strong point of the game is the awesome soundtrack, with amazing and catchy tracks.
Enjoy the video and comment what you think about the game!